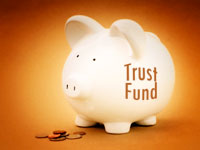 Unit investment trust funds allow small scale investors to participate in large fund investing that is otherwise inaccessible to them.
Unit investment trust funds (UITFs)
are the sophisticated form of pooled fund
(paluwagan)
, the investment that doubles as a savings plan many Filipinos are familiar with. UITF is a collective investment scheme that pools the investments of small investors into a larger fund under professional management. It is able to access more superior investment opportunities not normally available to individual retail investors.
This kind of trust fund comes with a number of advantages. One is the low minimum investment required, which starts at P10,000. Another is that one need not be a finance expert to make an investment. Because the money is pooled, investors diversify their portfolio and minimize their risks. The fund determines the best way to park the money, whether it is in commercial paper, bonds, or equities.
But please be reminded that Unit Investment Trust Funds (UITFs) are not deposit products and are
not covered by the Philippine Deposit Insurance Corporation.
Due to daily marking-to-market of investments, the price or the net asset value per unit of the UITFs may fluctuate depending on the prevailing market conditions. Historical returns of the Funds are for indication purposes only and are not guarantee of future results, any income or loss that may result from the performance of the Funds shall be for the account of the participant.
The type of unit investment trust funds (UITFs) depends on the investments they make. Here are some UITFs in the market today:
1. Money market securities UITFs. These are low risk, high liquidity investments.
2. Bond UITFs entail more risks but promise higher returns in the long term.
To see price history, you can visit directly to the bank website under investment category. Else, check from this site
http://www.uitf.com.ph...